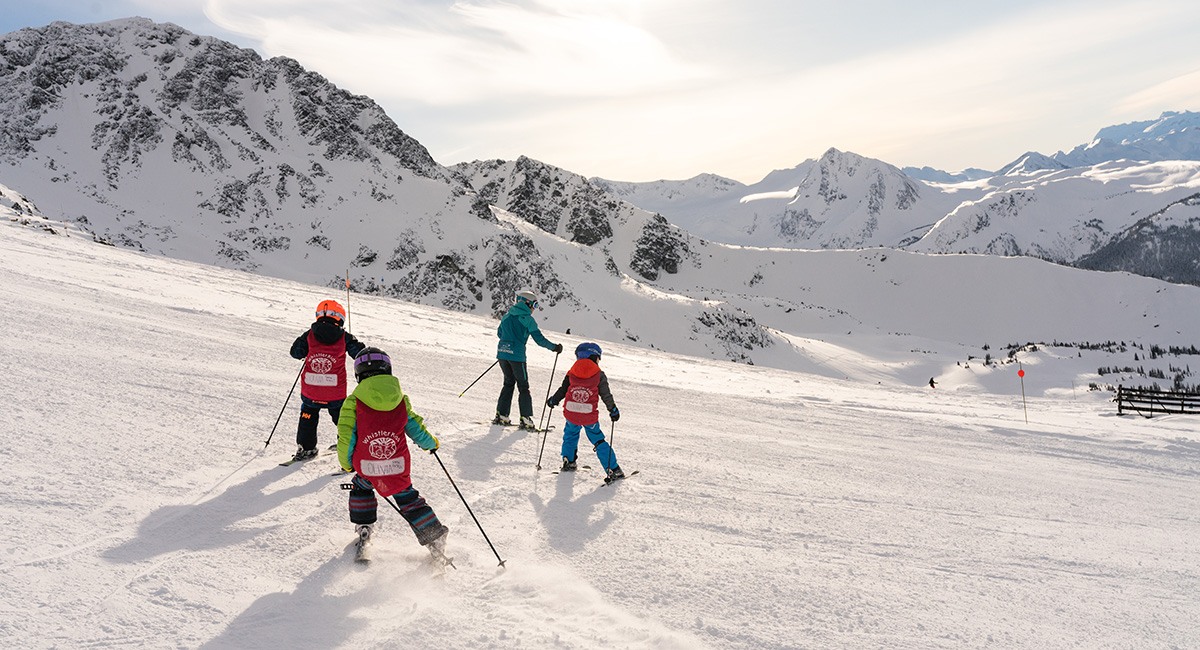 WHAT WE ENJOY:
– Amazing programs for kids to learn to ski in the winter and bike in the summer.
–  The instructors are fantastic and really care about the children they teach
– The program is well organized and well run
– The GPS tracker they put on the kid's legs makes the day safer as instructors can call in immediately to see the location of any child who may have made a wrong turn, plus as a parent you get to see everything they've done in a day.
STORY
Whistler's world-class instructors will take your little ones from the bunny hill to tackling all the mountain has to offer before you know it. For a fun, exciting way to learn and build a love for skiing, snowboarding and biking, look no further! Lessons are offered in several languages, including Spanish and French.
Kids can learn the basics all the way through to full mountain exploration, one day at a time. A fun learning environment with children that are similar age and ability. Daily, 2-day weekend programs and multi day camps are all available.
Once you've booked your lesson or program
– Please make sure you have your child's season pass prior to the first day
– Please make sure you have filled out the Vail Liability waiver or the pass will not be active. Once the Liability Waiver has been completed please email to [email protected]
– When booking, ensure that the email address attached to your child's profile is up to date, before the start of the program this email address will be added to a newsletter mailing list that will provide weekly updates including information for the first day.  
Getting your child prepared 
– Bring all of your properly fitted ski/board equipment—boots, skis/board helmet & goggles. Make sure children haven't outgrown their equipment over the summer before the first day! Please ensure skis/board are waxed, tuned and the bindings have been reviewed recently.
– Waterproof ski/snow suit and waterproof gloves or mitts.
– Dressed appropriately for the weather/temperature. Dressing children in layers is always recommended. Thermal long underwear & proper socks are essential for your child's comfort. Thin balaclavas are also great for fitting under the helmet and protecting your child's face & neck in the cold.
– Whistles are recommended for all club programs, they should be attached top of the jacket to be easily accessible.
– Hand and toe warmers are a great idea for cold days.
 Prepping for your lesson
– Get a good night sleep
– Eat a healthy breakfast
– Drink plenty of water to ensure you are hydrated
– Don't forget the sunscreen
– It's always a good idea to stretch and warm-up
Sorry, the comment form is closed at this time.